First pass at Warp Statues and Towers!
March 15th, 2019
I spent the last couple of weeks optimizing Bananamana's code. But I've also implemented two new features - warp statues and towers! Warp statues can be best described as checkpoints and you can warp to them once activated. Towers are very different, they'll give you some challenge and award you with various goodies and will allow you to check out the surrounding area from a high vantage point. More to come soon!






Bananamana - devlog video #3!
March 1st, 2019
New dev-log video for Bananamana! A month has passed since my last dev-log video and I have implemented a lot of new features in Bananamana such as dungeons! I also reveal in this video some of the game's mechanics - in a nutshell, I want Bananamana to be a mix of action, adventure and exploration. The procedural generation will allow the game to renew itself each time you play. It may sound like a Roguelike, but I don't want the game to be as punishing... so Bananamana will be more of a Roguelite-ish experience. I still use placeholder textures here and there, and some models are still rough.... More to come soon!


Flat fields, void crystals and dungeons!
February 15th, 2019
I've added so many new features to Bananamana! Believe me, it was a real struggle to only select a handful of images! I will publish another devlog video by the end of the month, so keep an eye on it! So far I've implement flat-field terrains which give a nice sense of scale - Bananamana is procedurally generated though, so this is a feature that will give variation to the explorable regions. I've also worked on the void-crystals which are at the core of the gameplay - I will reveal more about these soon! Last and not least, I've started working on the dungeons! Well, you've probably started to figure out what Bananamana ultimately is about, right?... Let's see... randomly generated worlds, dungeons... I'll give you some answers in my next devlog video! I'm still using a lot of placeholder textures and models though - things will look much better as I progress with the game!






Bananamana Logo!
February 8th, 2019
I've been putting this task on the back burner for a while, but it was time to create a logo for Bananamana! Especially now that I've started sharing more information and content about the game. I would like to say a big thank you to everyone who helped me with the design! You all rock! The logo went through several iterations in the past couple of weeks - it will probably change in the future though, but it definitively looks much better than the random-ish typeface I had before.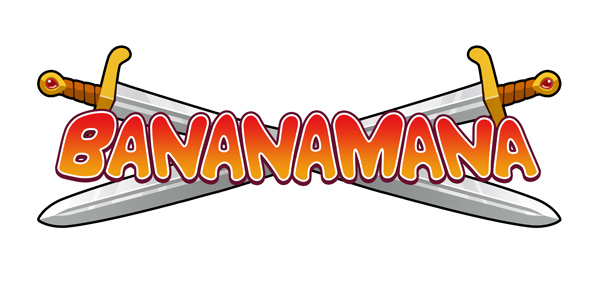 Bananamana - devlog video #2!
January 25th, 2019
New dev-log video for Bananamana! I've done so much work in the past few weeks! This video shows the new UI as well as the distance/melee weapons in action! Enemies now drop items when defeated! Well... they only release gold coins for now... but enemies always drop coins, don't they? So I had to start there ;) Oh, and now you can also now find chests! Finally, I've started working on each world's map and mini-maps! I've also fixed tons of minor issues and features here and there. Much more to come soon!


More Slimes!
January 11th, 2019
I spent the holiday in my hometown in France visiting family and friends. It is always a joy to spend Christmas there, especially with my two young nephews who seem to share the same crazy passion for video games as me and my brother do.

It was a well-needed break and after putting on a few pounds, I'm now ready to get back to work! Well, as you all know, I usually can't stay idle for long...

I had my sketchbook with me and doodled all kind of stuff for Bananamana - such as these cute slimes!

More to come soon!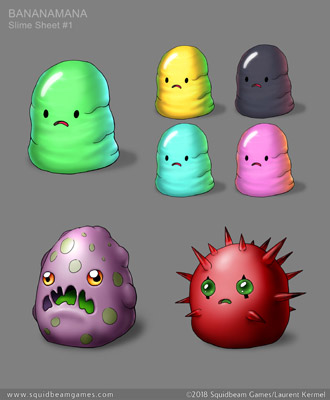 Bananamana's UI, new water shader and more!!
December 7th, 2018
I've been really busy working on Bananamana! I finally got to tackle my water shader and I think it looks awesome! I still have a few things to fix but it's starting to look like what I intended it to be! I've also implemented the game's main User Interface - still needs some work though! Finally, I've added a screenshot that shows a rough day/night cycle - if everything goes according to plans, it may be an important part of the gameplay! A lot more to come soon, hopefully in the shape of a new Dev-Log video!






First Dev-log video for Bananamana!!
November 16th, 2018
I'm finally ready to share a first Dev-log video for my new game! And I'm also ready to share its name! The game is called Bananamana and will be a procedurally generated action/adventure game! Many elements are already in place, although there are still placeholder textures and models here and there. I've also started to implement enemies, such as cute slimes. You can't realistically create an adventure game without slimes, it is not even an option!

The game has now its own page, although it will be more of a development blog of some sort for the time being.
http://www.squidbeamgames/bananamana


Twobit Odyssey now supports the Gear VR Controller and is available for the Oculus Go!
October 25th, 2018
Firstly, Twobit Odyssey now supports the Gear VR Controller!
I knew that it would be a lot of work to release such an upgrade, and well, it was. I really wanted to change and tune up parts of the gameplay in the process, but I feel that the VR Controller really adds a LOT to the game!

Secondly, and as an added bonus, the game is now fully compatible with the awesome Oculus Go! How cool is that?

Visit the Oculus Store today and share in Twobit's adventures!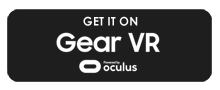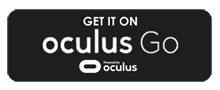 Twobit Odyssey playthrough! Last four levels!
September 21st, 2018
Here is the second and last part of the full playthrough for my Gear VR game Twobit Odyssey! Looking back at it, it took me a whole year to develop the game and, as a solo developer, I am still amazed that I pulled it off. Although I've been making games as a hobby for 30+ years, releasing a finished and official game was a very exciting adventure - and, most importantly, it showed me that I could do it! Let's make games!


Twobit Odyssey playthrough! First four levels!
September 17th, 2018
This has been on the back burner for a long while! Here is the first part of a full playthrough of my Gear VR game Twobit Odyssey! The first four levels are now available for you to watch! Please enjoy!!


New game project! First screenshots!
August 24th, 2018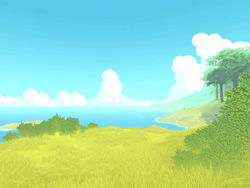 I have been working on my next game for a few months now and although I can't share it's name or gameplay mechanics yet (these will come in due time), I'm ready to share some early screenshots! I have now setup a development blog, so you can follow my progress!

Twobit Odyssey now 25% Off for the Oculus Summer Sale!
June 14th, 2018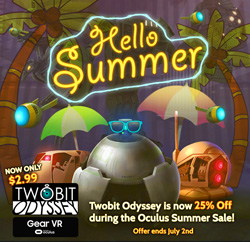 Hello Summer! Summer is officially upon us, meaning it's time to kick back, burst out the flip flops, enjoy some outdoor time during the day and play more VR in the evening! Twobit Odyssey is now 25% Off during the Oculus Summer Sale! You now now bring Twobit home for the price of an ice cream! Twobit Odyssey is $2.99 until July 2nd!

Twobit Odyssey now 50% Off for the Oculus Spring Sale!
April 2nd, 2018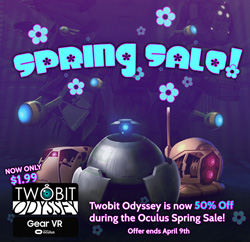 Spring is here! Let's celebrate all the things that make Spring so special, including bargains! Twobit Odyssey is now 50% Off during the Oculus Spring Sale! You now now bring Twobit home for half the proce of an ice tea! Twobit Odyssey is $1.99 until April 9th!